Eliminate Paper Time Cards and Remotely Track Field Crews
Get Your Free Demo of the #1 GPS Time & Attendance Tracking Solution for Construction and Field Service Crews
Get Your Free Demonstration and Expert Quote Now
Free Your Field Crews from Paper Timecards and Save Money with ExakTime
Track workers anywhere with our mobile app or rugged clocks.
Make your business smarter and more efficient with time tracking and scheduling.
Stop losing money from paper time cards and ease wage and hour compliance.
Reduce payroll costs by accurately tracking worker hours, activities, and GPS location.
Integrates with over 90 popular accounting, ERP, and payroll systems.
Take the next step to improve your company's time tracking and simplify your workforce management. Fill out the form to get your free demonstration and quote today!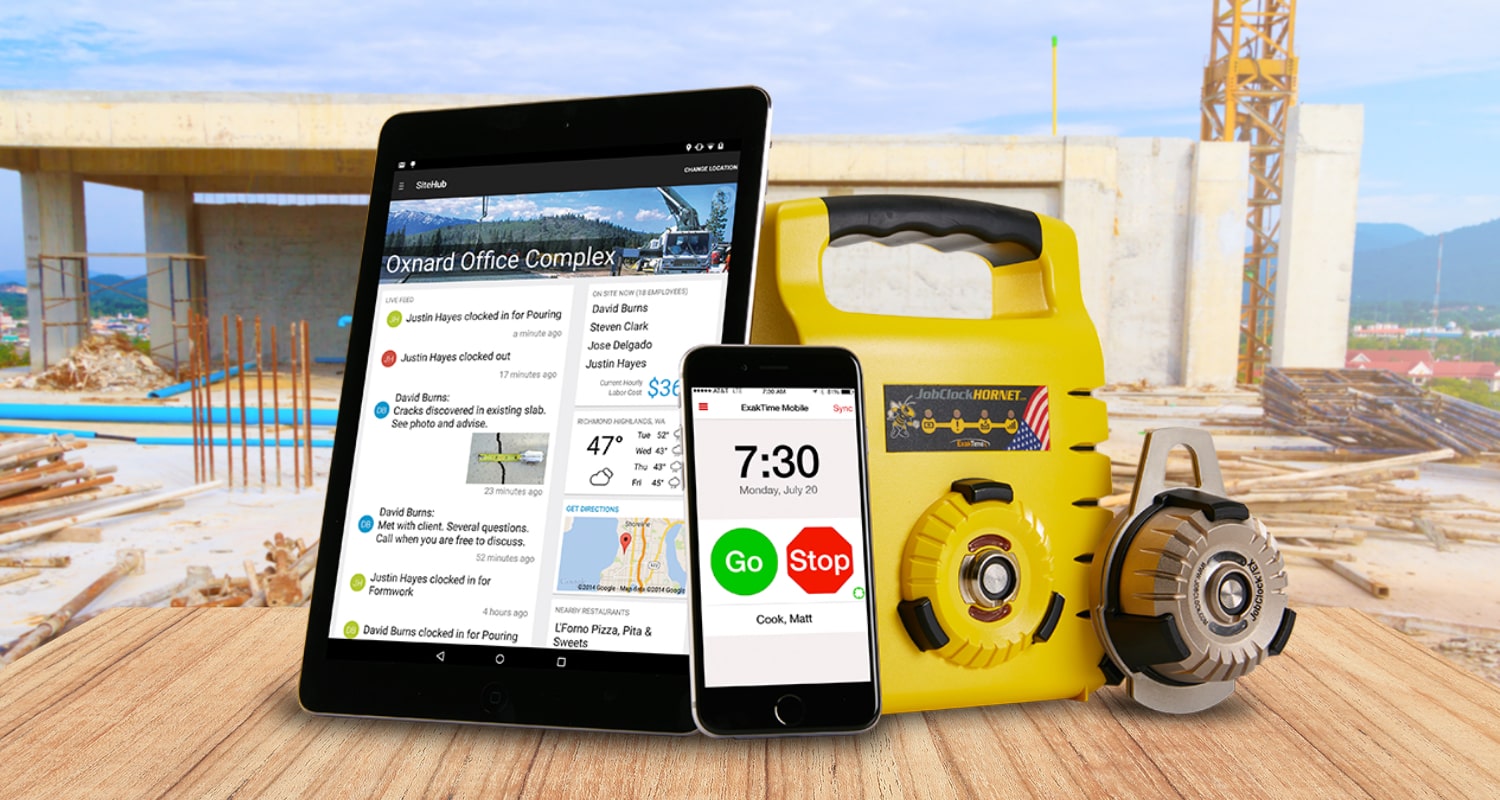 Use the ExakTime App or Rugged Time Clock
With the ExakTime Mobile punch clock, clocking in and out is simple. Using their own device, workers just tap green to start and red to clock out, allowing for quick user adoption and increased productivity.
JobClock Hornet rugged wireless time clock provides the durability and reliability you need. Designed for harsh environments, the weatherproof time clock sends workers' time and activities to the cloud every hour, so you can track anytime, from anywhere.
ExakTime Tracks up to 1 Million Clock-ins a Day for 10,000 Customers

"Now I can go into ExakTime whenever I want to see where workers are and if they clocked in on site. It's a huge time-saver."
- Laurie Saul Inglis, Advantage Flooring
"We save $50,000 a year, maybe more."
- Cooper Drywall, Knoxville, TN
"ExakTime is a huge money-saver."
- Boone Brothers Roofing, Omaha, NE
See How Easy ExakTime is to Use
Watch this 1 minute video to see how easy ExakTime is to use and how much time and money you can save.
Then, schedule your customized demonstration and get an expert quote.